In preparing for a home improvement project, the majority of

concerns for homeowners are the aesthetic and cost of the project. But as a design professional, I like to dig deeper into the details to uncover the functional and family lifestyle that should be included. Questions and answers are exchanged, pieces of the puzzle begin to fit into place, and design solutions start to emerge.
Once the Q&A has finished and I get ready to take a look around, my attention often shifts to the furry family members who undoubtedly makes their presence known. I sit back down and start to ask some additional questions that include the family pet since they were missing from all the notes, pictures, and bulging folder that contains the wish-list of ideas.

Considering that the
Humane Society
reports that 4 out of 10 households have a dog or cat, while the
American Pet Products Association
reports an even higher number for our furry friends, I have to believe that including them into the questioned asked for home improvement project would only benefit the entire family.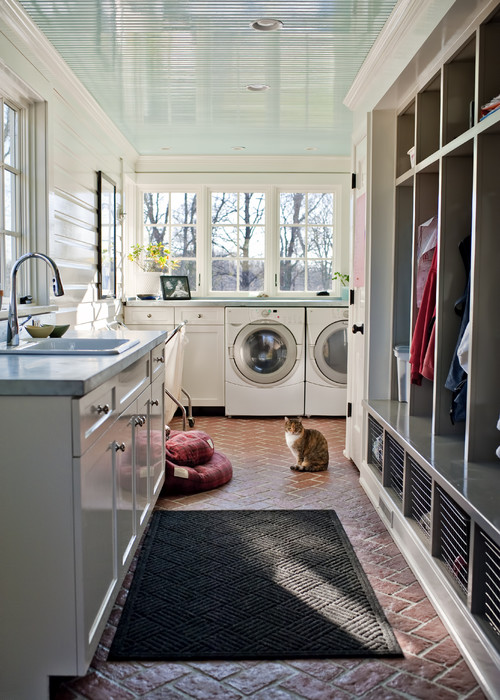 I find that kitchen and bath renovations get all the perks that make life a bit more convenient. Small changes such as increasing the height of a pantry shelf gives enough clearance to roll a food storage bin in or out or using that dead space under the stairs as access for the kitty litter would work wonders.
A Few Questions To Consider
What type of food storage do you use for your pets and where is it stored?

What rooms do your pets sleep?

How do you groom your pets?

Do you house your pets in a certain location at night or while you are at work?

Are there any health conditions that need to be addressed?

If there is one thing that you could do to improve your pet's environment, what would it be?
A Laundry or Mudroom space allows a family pet to stay involved in all of your activities or out-of-the-way of guests. The best improvements are organized and planned into a new space before the remodel is started.
Pet-Friendly Home Improvement Ideas
Built-in Ramps, Stairs, Window Seats, or Trees
Stain Resistant Carpets or Floors
Storage Areas for Pet, Supplies, or Kitty Boxes
Built-in sleeping areas, beds, or removable covers
Indoor Grooming Areas (e.g., Mudroom, Laundry Areas)
Built-in feeding stations
Pet access to other areas (e.g. basement, outdoors, under stairs)
We do love our animals! I personally have two cats that fill me with joy. They give my family unconditional love, keep us company when we are alone, and offer hours of entertainment.
As you gather your ideas for your next home improvement project, be sure to add your cat or dog designs into the mix of solutions and feel free to share
your pet-friendly design solutions.
Click here to visit my Pet Friendly Pinterest Board for more ideas.